The Vehicle Spill Bags and Kits are useful for dealing with spills in transit. Spills are quickly and easily contained without the mess and hassle of using loose particles. Portable and supplied in highly visible yellow zippered bags.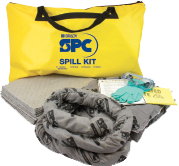 Vehicle Spill Bag
The 20 litre carry bag kits are an excellent way to ensure products are never far out of reach in the event of leaks, drips and spills. Suitable for use in vehicles with a total absorbent absorption capacity of 20 litres.
Vehicle Spill Kit
Suitable for trucks, vans and utes. Designed to fit in either the cab (behind seat) or in chassis mounted storage boxes with a total absorption capacity of 50-60 litres.
Contact our Safety Specialists to find out more